O'Sensei Masami Tsuruoka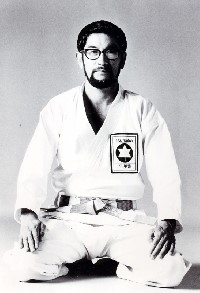 From "OUR ROOTS" , Masami Tsuruoka
Masami Tsuruoka was born in 1929 in Cumberland, British Columbia. At the end of the war, he moved with his family to Kumamoto, Japan. During a trip to Tokyo, he chanced to see a karate demonstration; he was so impressed that he resolved to learn this art, and upon his return to Kumamoto he began to study Chito-ryu karate with Dr. Chitose
By 1956, having attained the rank of nidan, he returned to Canada and started working in Toronto. At this time he was holding down two jobs during the day and was not practicing karate at all. However, he also held a shodan in judo, which he was practicing in the evenings and introduced some karate. Then, in 1957, Tsuruoka began teaching karate in a small gym on Danforth Avenue, and in 1958, he moved the dojo to an old bowling alley on Queen Street, near Roncesvalles Avenue in the west end of Toronto, where he began teaching karate seven days per week. At this time he still was working full-time at his daytime jobs. Thus began Tsuruoka Karate, the first karate dojo in Canada.
Meanwhile, in 1962, Tsuyoshi Chitose, Tsuruoka's teacher in Japan and the founder and headmaster of the Chito-Ryu style of karate, appointed Tsuruoka-sensei as the chief representative of Chito-ryu karate in North America. This position later was assumed by Shane Higashi, Tsuruoka's first black belt.
During the occupation of Japan, several American military personnel had undertaken karate training at the Yoseikan – the Chito-ryu head dojo in Kumamoto. In the early 1960s, Tsuruoka-sensei got in touch with many of these former Chito-ryu students to develop a Chito-ryu karate organization in North America. Notable among those contacted was Bill Demetrich, of Kentucky, who came to Toronto on various occasions to train with Tsuruoka-sensei. Demetrich was the chief representative of Chito-ryu karate in the United States until his passing.
In 1963 Tsuruoka organized the first karate tournament in Canada, "The First Canadian Karate Open Championship". In the same year, he began teaching karate at the University of Toronto, which became the first university karate club in Canada. In 1967 the inter-university karate tournament was held between Ontario universities, and the University of Toronto team, with Frank Foulkes as team captain, winning the championship.
Many of Tsuruoka-Sensei's students during this period were instrumental in the spread and development of karate in Canada. Among these is Shane Higashi. Higashi initially opened up an affiliate Tsuruoka club in Toronto, but afterwards went on to develop his own organization in various parts of Canada. Tsuruoka influenced and affiliated dojos opened across the country.
In about 1965, Tsuruoka moved his dojo to a more central site, choosing a location on Yonge Street, just south of Bloor Street, above the Golden Nugget Tavern. Around 1971 the club moved to what was the former location of the Kidokan Judo Club, above an automotive repair shop at 328 Dupont Street. Tsuruoka-sensei stayed here for a few years, after which he relocated to more spacious premises on the second floor above a sports car garage, on Davenport Road, near Avenue Road. The club remained here until 1980, when, through the generosity of Gerhard Moog, one of Tsuruoka-sensei's students and a well-known Toronto developer, it moved to its next location in the Canada Square Building, at the south-west corner of Yonge Street and Eglinton Avenue. Tsuruoka Sensei's later years, he did not have his own location but rather taught classes in various Tsuruoka dojos run by his black belt students.
This year (2022) marks the 65th year since Tsuruoka-Sensei opened the first official karate school in Canada. Long known as "The Father of Canadian Karate", he can justifiably take pride in the fact that largely through his untiring efforts, karate has grown from three students practicing in a small rented office in 1957 to tens of thousands of students across North America. Tsuruoka-Sensei himself has personally graduated thousands of black belts. Over the intervening years since 1958, there has been a gradual influx of many different styles of karate from japan as well as from other countries. However, the karate world in Canada is permeated with Tsuruoka-Sensei's original students, their "descendants", and the many teachers of other styles and schools who have been profoundly influenced by his teachings.
Many thousands of people from all walks of life have trained under Tsuruoka-Sensei's firm hand. It is fair to say that all of them have been touched by his spirit and, in some small way, have become better people. In the world of Canadian karate, wherever you go you will find the shadow of Masami Tsuruoka.
Article by Frank Foulkes Black Belt Journal, 1993
Note: O'Sensei Tsuruoka passed away Friday, October 10, 2014 leaving behind a lasting legacy, his martial spirit will live on in the hearts of the many thousands students he has trained.
Jennings School of Karate